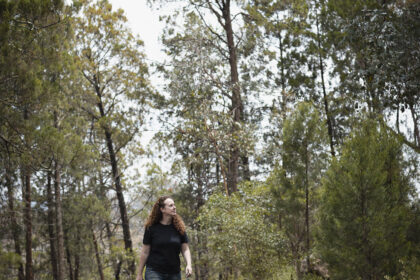 Old Stone Hall proudly presents Artwalks: an opportunity to experience the natural landscape of Beechworth through artists' eyes, and try your hand at an arts practice.
Series curator Erin Davis-Hartwig leads a small group on a gentle walk from the Old Stone Hall in central Beechworth to the nearby Historic Park, taking in streetscape, bushland, wide open spaces and delicate details.
The feature artist for each event then leads an open-air workshop demonstrating the skill of observation and supporting participants to capture some elements of the experience on paper or film. The group returns to the Old Stone Hall for a light brunch and a glass of local wine, with the opportunity to browse the artist's exhibited works.
Saturday 22 April – Artwalk with Nat Ord
Natalie's love of photography was initially spurred by a life-long love of the great outdoors. Before becoming a full-time commercial and fine art photographer, Natalie was an environmental scientist. She could be found knee-deep in the Murray River, undertaking fauna surveys in the Alps and working with landholders to improve the biodiversity values on their properties. Over the past two decades, Nat has traveled the world exploring and capturing scenes as diverse as Death Valley and Kakadu, rock music concerts and pro rodeos. She was named #5 Pro Photographer of the Year 2017 received a Commendation in the Sony World Photography Organisation London. Nat runs commercial photography business Manifeasto Photography and regularly features in national photographic prizes.
Nat's workshop will focus on capturing detailed photography across a range of devices, from smartphones to DSLR cameras. Participants are encouraged to bring a device they are familiar with and can expect to learn skills of composition, exposure and an understanding of light, specifically to capture macro images of nature's perfect tiny details.
Walk details
The walk is approximately 3kms return with a steep street hill included (Camp street). A reasonable level of fitness is required for a comfortable walk. When within the Beechworth Historic Park we will cover some uneven ground and slight a hill climb, participants are advised to wear sturdy shoes, and bring a waterproof jacket and sun protection.
Artwalks is supported by Indigo Shire Council.